Our goal at Happifeet Podiatry is to help you lead a happy, healthy and active life. We do this through caring for your feet and helping you be painfree. This may be through our podiatry treatments, footwear recommendations or tailored footcare advice. 
We have 5 key cultural values at Happifeet Podiatry to help guide us through our day to day interactions with our patients, customers and fellow team members. 
We show care and respect for each other and for those who come into our care.

We value relationships with our patients, customers, our community and team members.

We pursue excellence and believe in continual improvement and in having a growth mindset.

We work as a team to provide the best possible outcome for all of our patients and customers.

Most importantly, we believe in the importance of being genuinely happy. 
Happifeet Podiatrists also supports the local McLeod Country Golf Club and the local Jindalee Bowls club. We also regularly support our surrounding school's P&C committee with fund raising initiatives such as a $5 donation to the school for each pair of school shoe purchased through our shoe stores. We enjoy supporting our local area as we believe that a healthy and active community naturally leads to a happier community. 
We pride ourselves on our thorough assessments and proactive treatment plans and believe in safe gaurding your feet against future problems.  We find that real improvements come from finding out the true cause of your pain or problems and that working closely with you to help formulate the best way to manage your condition often yields the best results. 
Happiness is having 'happy feet'. That's why at Happifeet Podiatry our goal is to keep you and your family's feet happy, healthy and active allowing you to continue to do the activities that you enjoy most, improving your quality of life.
Our Team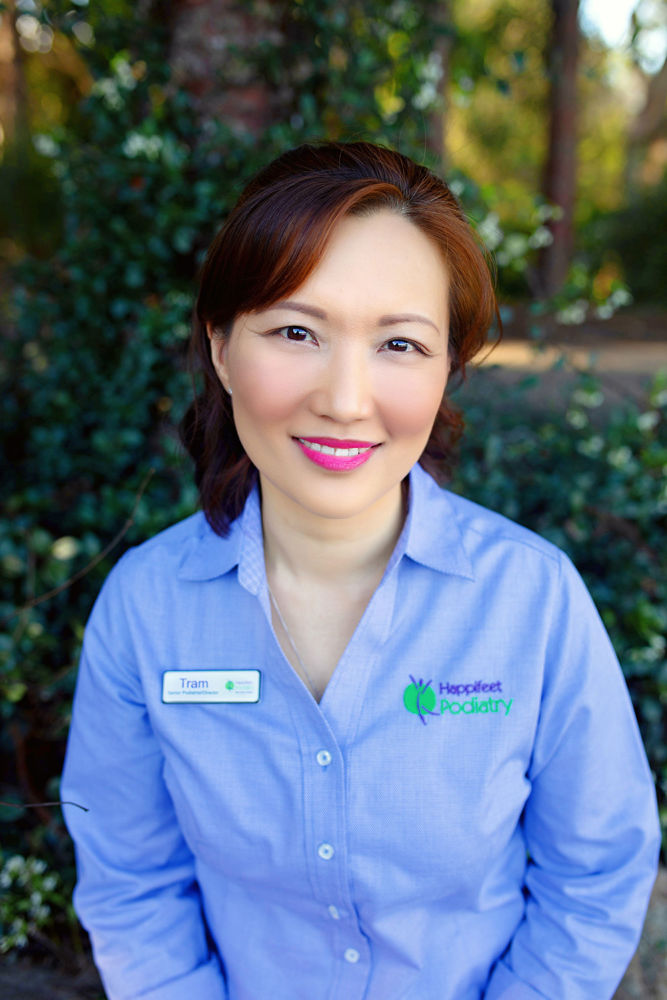 Tram Phan 
Senior Podiatrist/Director

B.Health Science - Pod (Hons)

Tram has been working in private practice for over 18 years, including 3 years working in a Physiotherapy clinic.

She has a special interest in ingrown toenail removal & management, making orthotic devices to relieve patients' painful symptoms and create an improvement in the way kids walk & run.

In her spare time, Tram enjoys working on small sewing projects and spending time with her 2 boys who both have an artistic flare in drawing and digital art. Her favourite place to go on holidays is visiting the quiet beachside resorts along the Sunshine Coast, Queensland.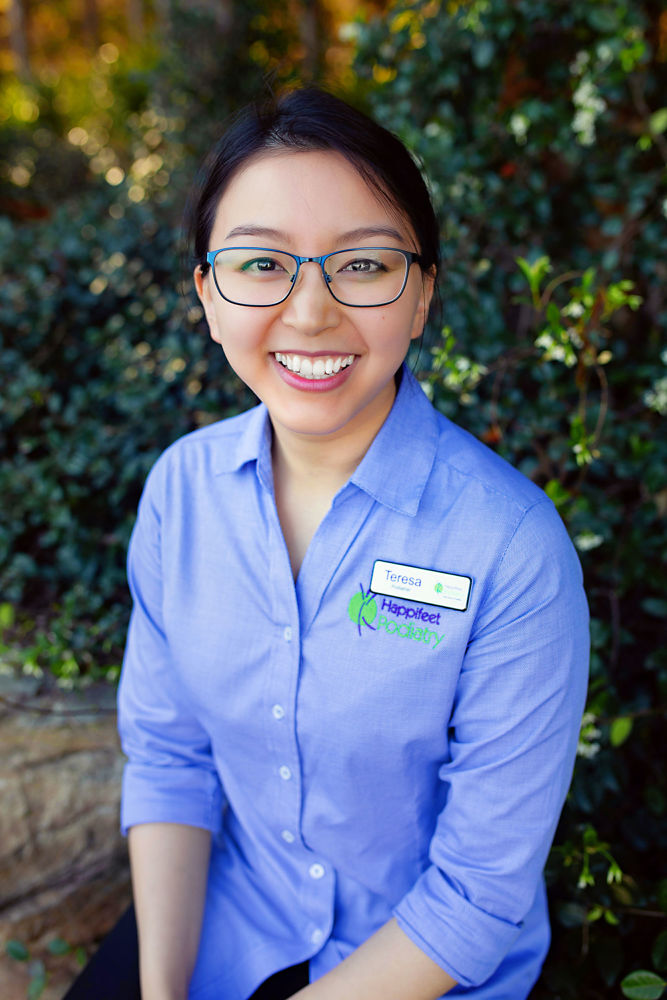 Teresa Nguyen

Podiatrist

B. Health Science - Pod

Teresa has a strong passion for helping people. The thing she loves most about podiatry is the positive impact that podiatry can make in her patients' lives. If someone can be pain free, they can lead more enjoyable and happy lives. She has been working at Happifeet Podiatry since 2016 and has a special interest in using dry needling to treat a wide range of foot and lower limb problems. Teresa loves her 2 cats and enjoys interesting activities such as puzzle rooms, rock climbing and muay thai kickboxing.

 
 

 

 

Kirsty Johnson

 

Podiatrist

B. Health Science - Pod

 

Kirsty graduated from a Bachelor in Podiatry at Queensland University of Technology in Brisbane, QLD. After representing Australia in Track & Field for many years as a sprinter, she gave it all in to pursue her passion for helping others achieve a better quality of life through assisting in their foot health. Kirsty has experienced first-hand what a podiatrist has to offer, and her special interests are in paediatrics, injury rehabilitation, orthotic manufacture and footwear design. Outside of work, you'll likely see her attending park runs and the local gym whilst she enjoys spending time with her husband-to-be and close friends and family.

 
 

 

Jeremy Lin

 

Podiatrist

B.Health Science - Pod

 

Jeremy has experience in both private practice and public health care. He has recently returned to Brisbane after practising in North Queensland for a number of years seeing a wide variety of conditions ranging from sport injuries, ingrown toe nails and general foot pain. Jeremy enjoys developing a treatment plan specific to the individual to help reach their goals and to live without any foot problems. When not helping patients as a podiatrist, Jeremy enjoys cooking, keeping fit and is a keen musician.

Trudie Voigt-Gadanyi

Senior Receptionist

Trudie has a background in tax consulting and visual merchandising for high end organisations.
She is currently studying a Dual Degree in Business and Industrial Design.
Huyen Do

Senior Receptionist

Huyen has worked at Happifeet podiatry for 2 years and has just graduated from QUT with a Bachelor of Nutrition & Dietetics (Honours).
She loves all things stationery and is an entrepreneur of a small local business - 'Do Labels'.
Jess Rattey

Receptionist

Jess has a passion for art, especially painting. She loves chatting to our customers and patients and helping them with all their needs.
She is also very talented with all things hair, make up and beauty.
Winnie Liao

Receptionist

Winnie is currently completing her Bachelor of Podiatry at QUT. She is a very passionate learner when it comes to lower limb conditions.  She also enjoys spending time with her pets, watching NBA games and solving Rubik cubes.