FAQs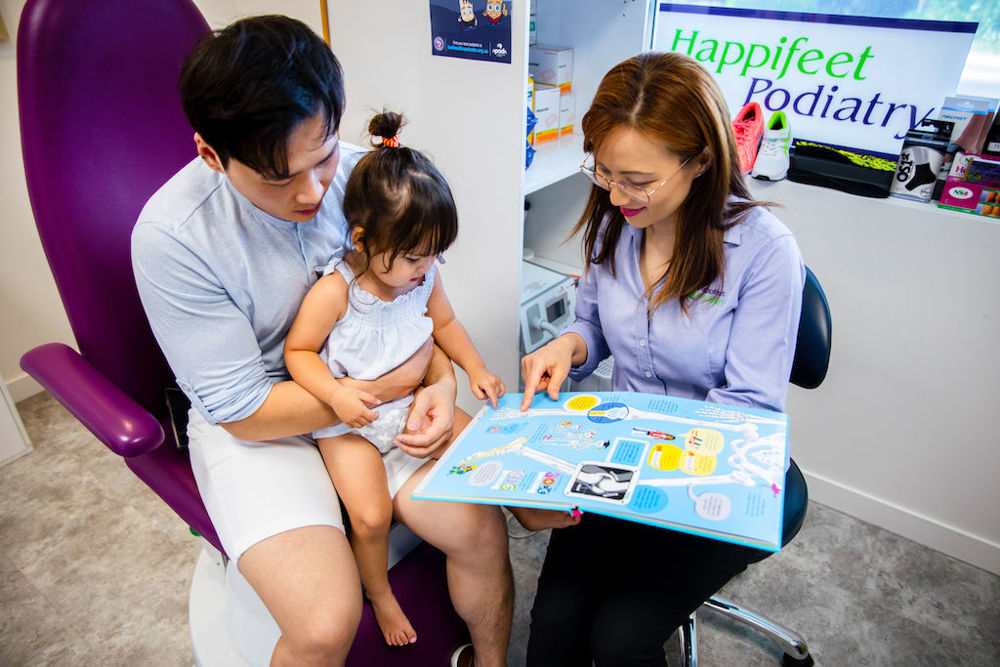 What does a Podiatrist do?
Podiatrists are registered health professionals who can diagnose, treat and prevent conditions in the lower limbs and feet. Podiatrists specialise in how your lower limbs affect the rest of your body.
What is the difference between a Podiatry and a Chiropodist?
Since 1977, Australia replaced the term 'Chiropodist' with 'Podiatrist' when the decision was made to regulate the profession and increase the scope of practice to include the ability to treat a wider range of conditions. In some countries such as the US and less so in the UK, the term chiropodist is still used.
What qualification does a Podiatrist have?
All of our Podiatrists have completed a four year Bachelor of Health Science - Podiatry. Every year our podiatrists renew their Podiatry Board of Australia's registration and take part in continued professional development.
What conditions can Happifeet Podiatry help me with?
What are some of the most common treatment options at Happifeet Podiatry?
What should I expect during my first consultation?
During your first consultation, your podiatrist will ask you a series of questions to gain an overall understanding of your general health and any health concerns that you may have. This will be followed by an examination of your feet and lower limbs using various pieces of equipment such as a podoscope (to view the distribution of pressure through the feet when standing) and gonimeters (measures angles of motion), to diagnose any irregularities. Our podiatrists aim to find the root cause of your foot condition rather than just treating the short term signs & symptoms. They will formulate a treatment plan that best suits your needs and treatment will usually be initiated during your first appointment.
How long will my first consultation take?
Your initial consultant may take up to 40 mins. It is recommended that you arrive 5-10 minutes before your first appointment to complete your 'new patient' documentation.
What should I bring to my appointment?
It is suggested that you bring with you any referrals, x-rays or scans that may be applicable to your assessment and/or treatment, as well as any footwear that you wear on a regular basis for school, work, sport or recreation.
What are orthotics?
Orthotics are custom made foot support devices which can assist in injury management and/or provide support to areas of the foot that require it. They can be used to rectify irregularities in leg length and natural foot posture and can facilitate reduction in muscular pain and/or discomfort when walking or exercising.
At what age can I take my child to see a Podiatrist?
Children can be introduced to Podiatrists at any age, however we suggest you book a visit particularly if your child is experiencing leg, knee, ankle or foot pain. Podiatry examinations are often undertaken as an extra reassurance for your concerns about your child's gait or their ability to meet developmental milestones.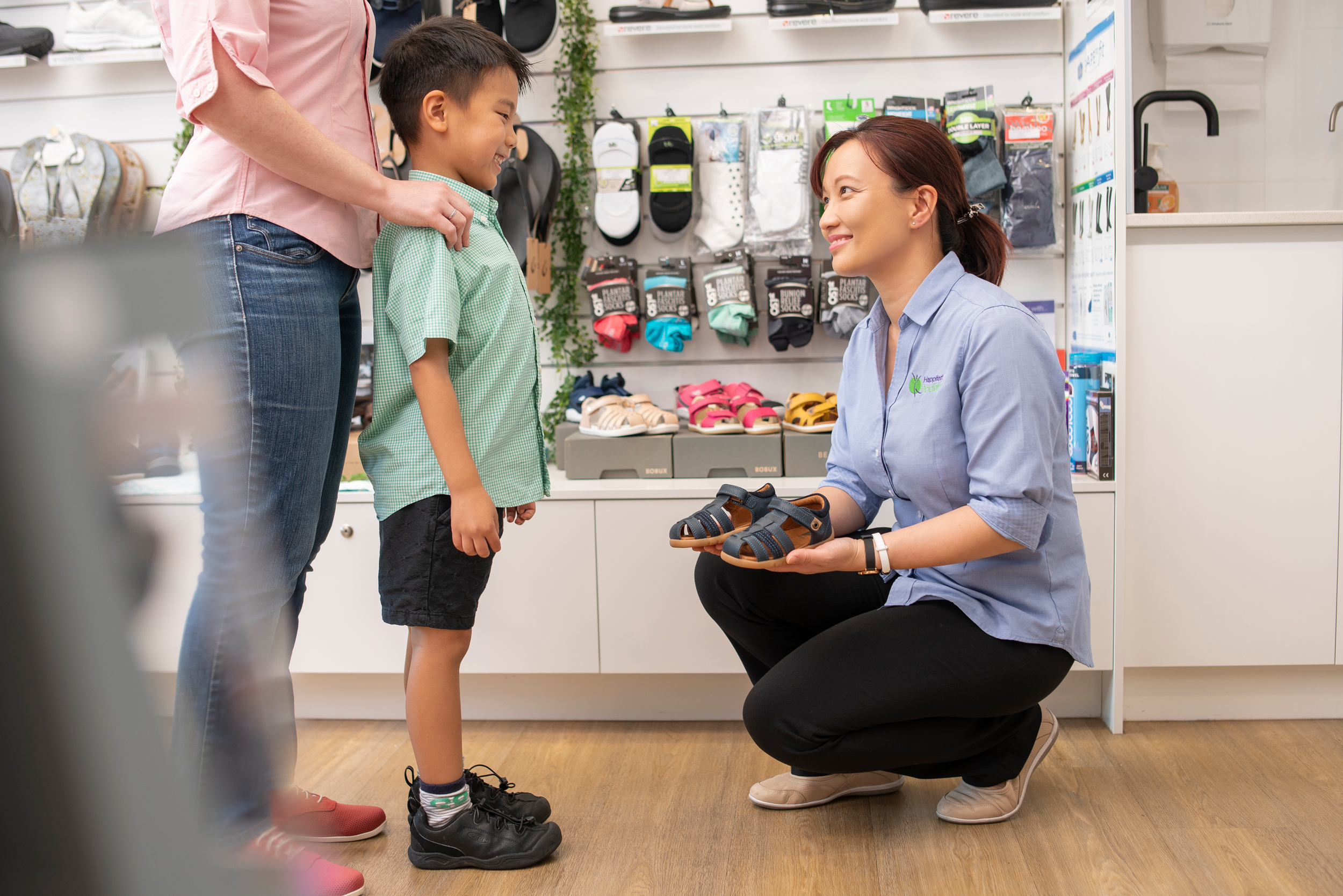 What should I look for when choosing a Podiatrist?
When looking for a Podiatrist, we recommend you check the following:
o    Is the Podiatrist registered with the Australian Health Practitioners Registration Agency?
o    Does the practice abide by Australian Infection Control Procedures?
o    Does the Podiatrist participate in Continued Professional Development?
o    Does the practice provide appointment times to suit your schedule?
o    Is your podiatrist coordinating regular outcome measures to ensure your treatment is specified to your concerns?
Will it hurt?
Visiting a podiatrist is not usually painful. Some treatments may cause some discomfort, however our Podiatrists always work to employ minimally invasive treatments where possible to ensure your visits are not painful. We always explain each procedure to you before it is undertaken and will always involve you in the treatment process. If we can find an easier, less painful alternative for you, we will offer it to you first.
How do I pay for my visit?
We require payment at the time of your visit. If you have private health insurance we can help you make a claim to your health fund in clinic. Our Hicaps facility will allow you to claim the benefit from your health fund on the spot (at the end of your consult) and you will only need to pay the gap amount. The Hicaps machine will also allow you to use your Eftpos card and credit card. We accept Visa, Mastercard and American Express cards at both of our practices.
Can I claim my visit through Medicare?
Possibly. If you have the relevant Chronic Disease Management Plan or Team Care Arrangement referral from your GP, you may be eligible to claim $53.80 back from Medicare per visit (maximum of 5 times per 12 months and per calendar year).
If you feel you meet Medicare's criteria for Chronic Disease, you can book a special appointment with your GP to discuss this further. Please mention this when making your booking.
Happifeet is a private practice and we do not bulk bill.
We require payment at the time of your appointment and then the Medicare rebate can be claimed back from Medicare. We can help you do this by either providing you with a receipt that allows your to go to the Medicare office to make a claim or via Medicare's online facility. Or, we can use our hicaps/eftpos machine to make a claim for you on the day of your appointment. in order to do this, we require your Medicare card and an eftpos card to make your claim for you but only after you have paid your consultation fees in full.
Medicare stipulates that you cannot make another claim to your health insurance once you have already made a claim to Medicare for the same consultation. However, you can use your health insurance to claim for additional items such as orthotic devices.
Can I claim through my private health fund?
Yes. We have Hicaps facilities on site and can process your Private Health Fund claims immediately.
How far in advance should I book?
We can take bookings up until the day you wish to visit. However, popular appointment times such as after school/work hours and Saturdays fill quickly, so we recommend you try booking 1-2 weeks in advance to secure the most convenient time for you.
We sometimes have a waiting list in case another patient changes their appointment time. This is why we confirm all of our appointments 1-2 days before your appointment either by sms or phone call. Likewise, if you are unable to attend, please let us know asap so that the appointment time can be made available for someone else. Less than 24 hours notice will incur a cancellation fee.
Some useful links:
AUSTRALIAN HEALTH PRACTITIONER REGULATION AGENCY